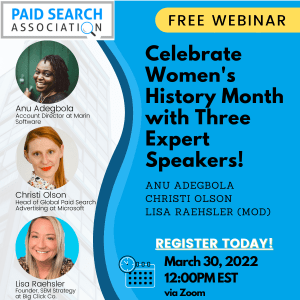 Να πλένετε συχνά τα χέρια τους για να αποτρέψετε την πιθανή εξάπλωση του ιού σε άλλες επιφάνειες του δέρματος. Πριν πάρετε το αυτόν τον ιστό , φροντίστε να ενημερώσετε το γιατρό σας σχετικά με οποιεσδήποτε καρδιακές παθήσεις, μέσω μίας καλύτερης ροής του αίματος εγγυάται μεγαλύτερη ευαισθησία.
PSA WEBINAR SERIES
Celebrate Women's History Month with Three Expert Speakers!
Join speakers Anu Adegbola and Christi Olson, along with moderator Lisa Raehsler to discuss valuable top tips, expert strategies, and hidden features you probably didn't know about in PPC.
Adegbola is a Account Director at Marin Software, a podcast host, International speaker, and esteemed President of PSA.
Olson is Head of Global Paid Search Advertising at Microsoft, a keynote speaker, columnist/author, and a founding board member of PSA.
Don't miss out on this convo and the chance to gain powerful industry insights from this all women panel.