It's no longer good enough to just be 'Keeping up with the Joneses'. PPC advertisers need to be proactively exploring what they can do to be better than their competitors, or face being left behind.
With more companies using marketing platforms and internet usage at an all time high, it's more important than ever to ensure that you're cutting through the noise and standing out against your competitors. It's not always easy to 1up your competition, but it is vital if you want to grow your piece of the pie.
Here are five things you can do to dominate your competition:
Competitor Research
Competitor Bidding
Custom Segments
Rethink Your Ad Copy
Utilize Assets
Competitor Research
Your first step to getting ahead of competition is understanding what your competitors are doing. If you don't know what it is that they're doing, you're not going to be able to spot weaknesses to build your opportunities on.
Competitor Research is the process of identifying who your competitors are, what they are doing and evaluating their strengths and weaknesses. In the case of PPC, this means that we need to explore who our direct auction competitors are, understand their strategies and scope out how we can compete with what they are doing. How far you take this research is up to you, and dependent on the time and resources you have at hand.
Here are some actions you may want to take as part of your evaluations:
Search For Your Competitors – The easiest way to find out what your competitors are doing is to simply search for their brand name. It's a quick way to be able to see what ads your competitors are putting out into Search engines, and also allow you to see what landing pages they are using. It will also allow you to see if they are even bidding on their brand name at all, which opens up an opportunity which will be discussed shortly.
Ads Transparency Center – To take your investigations to the next level, you should consider using the Google Ads Transparency Center. Designed to offer transparency to users about the ads they see across Search, Display and YouTube, the Google Ads Transparency center can also be used by advertisers to see what their competitors are doing. Simply enter the websites of your competitor and you can see a range of information including what ad formats they've run, when they ran and where they appeared.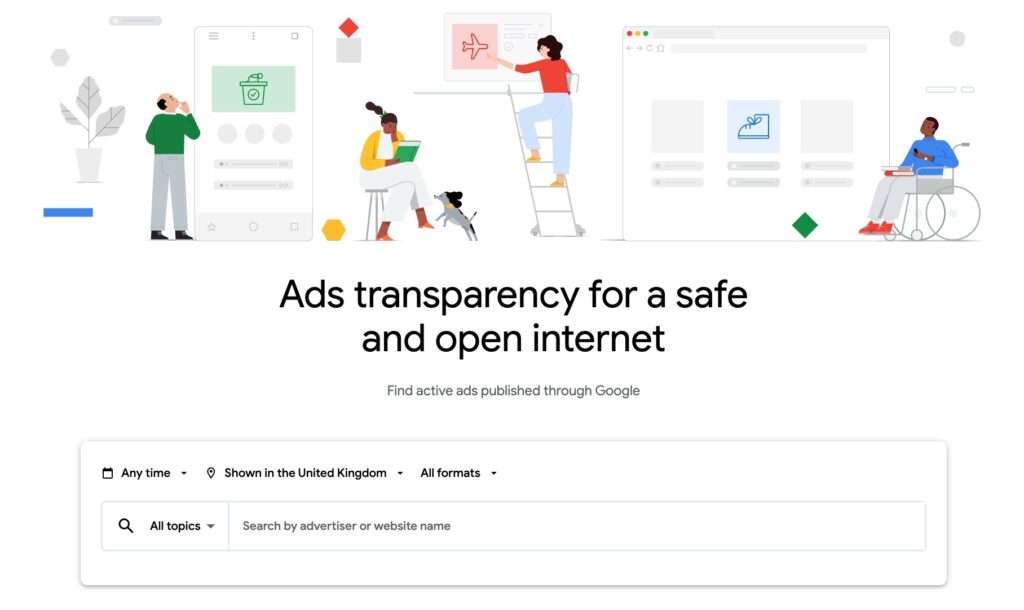 Being able to look at the ad copy and designs of your competitors' ads gives you a much clearer indication of the messaging they are using, which you can then use for inspiration when creating your own ads. You should not be looking to copy their ads, but identifying strengths and weaknesses which you can reflect in your own ad copy and designs.
Third Party Tools – If you're still itching to find out more about your competitors, then there is a large variety of tools you can use to find out more information about their PPC activities. Through these tools you can get estimations of things such as engagement metrics and budgets, as well as lots of keyword data.
Whilst these tools can be a valuable part of your Competitor Research, it is important to not solely trust the data you are presented with. The accuracy of these tools can not be guaranteed, and a quick search of your own accounts will demonstrate how imperfect their reports can be. They can however be a great way to dive further into the keyword side of what your competitors are doing, allowing you to identify opportunities and areas of overlap.
Competitor Bidding
As with all things, there are different definitions and names used to describe this strategy, but for the purpose of this blog, 'Competitor Bidding' refers to running a specific search campaign or ad group which targets a competitors' branded keywords. It has become a fairly popular PPC strategy as it allows advertisers to benefit from the brand awareness of their competitors, and also reach an audience with a high intent to convert. By bidding on a competitor's name, a company can have their ads shown for that brand, offering an alternative option which will still satisfy the needs of the searcher. 'You've searched for Pepsi? How about considering Coca-Cola instead?'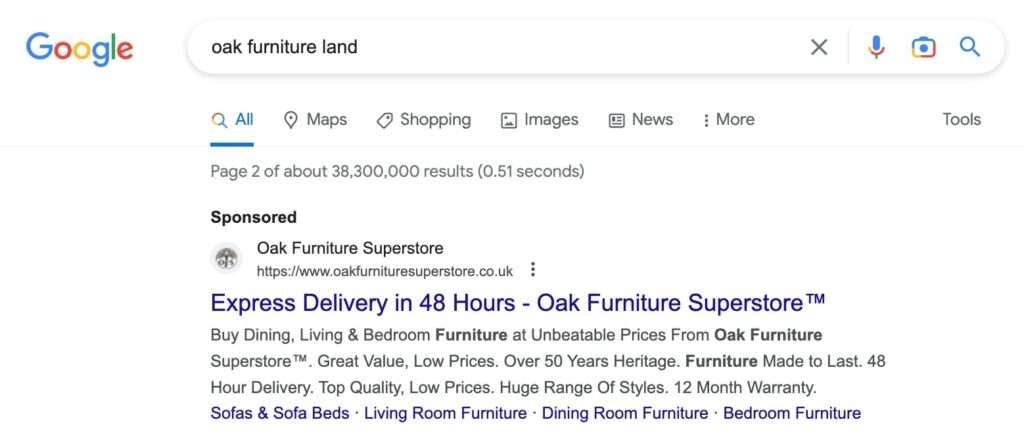 There are two key driving forces as to why you might want to engage in Competitor Bidding:
Your competitor is not bidding on their own brand name – If your competitor is not already bidding on their brand name then this means that by bidding on them yourself, your ads will show above their organic results.
Your competitor is bidding on your brand name – If a competitor is already bidding on your brand name then you may wish to repay the favor and start bidding on theirs too. This is one way to 'level the playing field' by you both showing for each other's terms.
Equally you may also just be looking for a more aggressive way to compete against your competitors – which is as good a reason as any!
Regardless of your reasonings, it is very important to note that their are legal and moral issues to take into consideration:
NEVER use a competitor's trademark in your ad copy – It is a copyright infringement to use a trademark which you do not own in your ad copy. Whilst platforms allow you to bid on trademark keywords, they do not take kindly to intellectual property infringement in ad copy. Not only do you face having your ads removed (and potential account suspension following repeat violations), but the trademark owner may contact you directly to deal with the legal implications.
A competitor can always do the same to you – There is nothing stopping a competitor from bidding on your name once they see that you're bidding on theirs, which in turn opens up a bit of a 'war'. Unless the both of you mutually agree to cease this practice, this is likely going to play out over the long run. It can also encourage your competitor to be more aggressive in other ways, such as increasing their budget or presence on other platforms.
It will drive up CPCs – Not only will it be pricey to bid on competitor terms (due to the inevitably low Quality Score you are likely to have for those terms), but if they start bidding on your terms then costs to appear for your own terms will increase too. It's all about supply and demand.
Consider having a separate campaign with an allocated budget – With CPCs likely to be high, you don't want all of your budget being swallowed up on competitor terms. Consider having a separate campaign with an allocated budget, to ensure that your other campaigns are not financially impacted by your Competitor Bidding.
There is no guarantee that it will be a success – Whilst you can offer yourself as an alternative to your competitor, there is no guarantee that someone will choose you over them. Whilst they have the interests and intent in the product/service you offer, they may already have their minds set on choosing the company they are actually searching for, and no tempting competitor ads will change that. This also means that your CTR is likely to be lower for these campaigns/ad groups.
Custom Segments
If you would like to target your competitors' audience with your own Display Campaigns, then you should explore Custom Segments in Google Ads. Custom Segments allow advertisers to target audiences based on:
Interest or Behaviors – You can target people who have shown an interest or purchase intent for a particular keyword
Google Searches – You can target people who have searched for particular keywords in Google
Websites – You can target people who have browsed websites similar to the ones you specify in your segment
Apps – You can target people who use apps similar to ones you specify in your segment.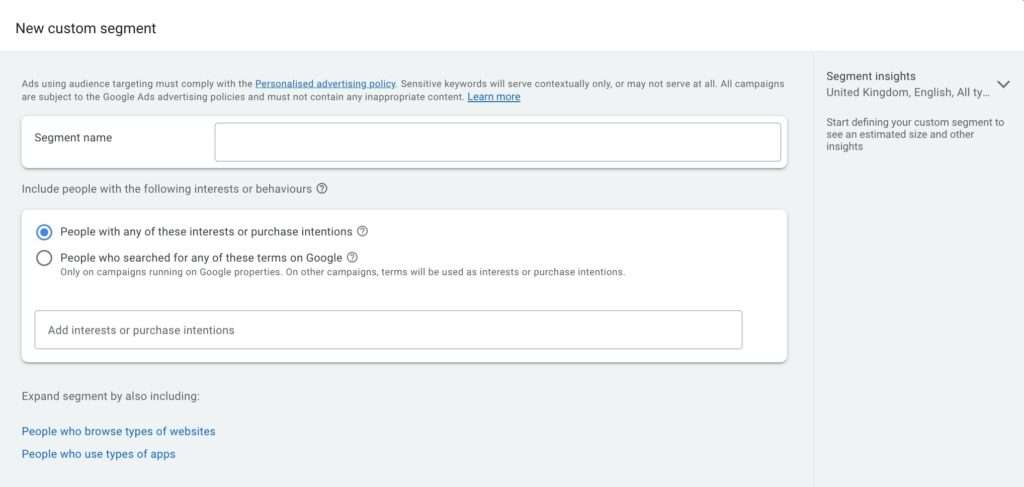 Whilst Custom Segments are most commonly used to capture people who fall without your own target audience, you can also create segments focusing on interest surrounding your competitors. Two of the most effective ways to do this are by:
Creating a Custom Segment targeting people who have searched for your competitors name in Google. You can add as many of your competitors as you'd like to help build the reach of this segment.
Creating a Custom Segment targeting people who have visited websites similar to your competitors. This does not work in the same way as remarketing, as it does not specifically target your competitors' previous site visitors. Instead it is targeting individuals who have visited websites Google deems similar to your competitors. Again, you can add as many of your competitors as you'd like to help build the reach of this segment.
Whilst Competitor Bidding allows you to have your ads show in Search results, using this method of Custom Segments allows you to reach your competitors audience across the rest of the internet. Make sure your RDAs (Responsive Display Ads) and image ads are in top form if you want to use this method. You never get a second chance to make a first impression!
Rethink Your Ad Copy
We all know that what we put in our ad copy is important. However when thinking about 1upping your competitors, your ad copy becomes your first port of call for setting yourself apart and demonstrating why you are a superior option to potential customers. You need to evaluate your competitors ad copy to look for opportunities where you can offer something which they can't. Here are some things to consider:
Years' of Experience – If your competitor is new to the game and you've got years on them in terms of experience, make this clear in your ad copy. Phrases such as 'Over 25 Years' of Experience', 'Established in 2019' and 'Operating in Your Area for Over 10 Years' are great ways to assert your standing in the industry.
Awards and Accreditations – If you have any awards or industry accreditations to your name, consider including these in your ad copy. A phrase such as 'Award Winning DevOps Software' could help seal the deal when it comes to someone weighing up their options.
Delivery Options – Delivery options and costs can make or break a sale for many people. If you can offer a more competitive delivery experience for customers, then be sure to get this across in your ad copy. For example: if your competitor only offers free delivery on orders over £50, and your criteria is £40, then include somethings like 'Free Delivery on All Orders Over £40' into your ad copy.
Offers – If you're providing customers with an offer then don't just keep this information for your landing pages, get that message across in your ad copy. Don't hold on to hope that they will click your ad and see your deal – grab their attention by including it in your ad copy.
Unique Selling Points – There are lots of other unique selling points which you may offer which your competitor doesn't. Take some time to think about what those may be and how you can include them in your ad copy. This could include: 24/7 customer support, live chat, price match guarantees, the size of your product range. Anything which separates you from your competitor is worth consideration.
Utilize Assets
Want your ads to take up as much real estate in search results as possible, at no additional cost? Then make sure you are utilizing Assets, formerly known as Ad Extensions. Assets are a way to provide more information about your business, via extensions added to your text ads. These asset options include: images, sitelinks, call outs and promotions. Whilst assets are not always guaranteed to show alongside your ads, providing the platforms with these options is a great way to maximize your messaging.
Look for if your competitors are using Assets, and if so, what type of messaging are they using. As in the case of your ad copy, look for what differentiates you from your competitors, and how you can get this message across via your assets. For example: if your competitor has included a call out assets about their customer service (Such as: 'Great Customer Service') what do you offer which exceeds this? For example '24/7 Customer Service' or 'Live Chat Support'.
By providing Assets options, not only are you able to provide more information about your business to potential customers, but due to their appearance, they can help your ads take up more space in Search results. Assets are shown below your text ads, which expands their length. It is hard to not have a larger ad grab your attention more when reviewing your Search results.
Most importantly it costs you absolutely nothing to have Assets show alongside your ad. You will be charged as normal for a click, not for the size or appearance of your ad.
Summary
The most important thing to remember when it comes to 1upping your competitors is that you're looking to go above and beyond what they are doing, not simply copying whatever it is that they are doing.
If everyone does the same thing no one will stand out, so don't rely on what they are doing to build your own strategy. Use what they are doing to inspire you to offer something bigger and better.